Press Release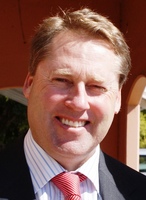 TWO STRIKES FOR GIG
2009-05-14
The State budget has confirmed that WA's regional communities are missing out on vital funds for rail and road infrastructure because of a proposal to restore outmoded narrow gauge rail systems.
Pastoralists and Graziers' Association Grain Chairman Rick Wilson said State Treasurer Troy Buswell had now joined the Federal Government in rejecting the Grain Infrastructure Group's recommendations put up under the previous State Labor Government.
"These proposals were six years in the making, but the talks involved only Westnet Rail, Cooperative Bulk Handling Ltd, The Australian Rail Group and the Department of Planning and Infrastructure."
They were designed to protect an outdated and inefficient narrow gauge network which was created in an era of the single desk. In fact they denied people in the core agricultural areas of WA the opportunity to fund new viable new standard gauge road/rail infrastructure, which is needed in a deregulated environment.
Mr. Wilson said the allocation of $3.2billion in this week's federal budget to fund the upgrade of rail projects in Victoria to standard gauge was a classic case of what PGA and the new State Government were talking about.
"Given that WA was under funded by 1.1billion under the Federal Government's infrastructure spending package, regional WA has missed a golden opportunity to acquire funding to upgrade the freight network to the 21st century"
"The GIG group knew that there would be no federal support for outmoded rail systems and not only pressed on with their proposal, but indulged in a baseless public campaign to sell their outmoded ideas."
"The matter must now be redirected by the State Transport Minister to those capable of taking an unbiased look at introducing a modern standard gauge system that offers a wider, more viable community service, and will therefore justify public funding," he said.
"The PGA is committed to working with the Minister to ensure that this process is enacted for the benefit of all regional industries."
News
2020-06-12

Tier 3 Railways Need to be Economically Viable
read more >>

2020-06-03

Time for McGowan to Stand Up for Live Exports
read more >>

2020-05-28

PGA Urges Federal Govt to Provide Exemption
read more >>
CONTACT INFORMATION
STREET ADDRESS

Ground Floor, 28-42 Ventnor Ave
West Perth
Western Australia 6005

POSTAL ADDRESS

PO Box 889
West Perth
Western Australia 6872

PHONE

(08) 9212 6900

FAX

(08) 9485 0299