Press Release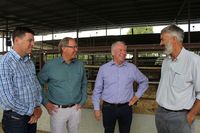 THE PGA WELCOMES ANNOUNCEMENT OF PROPOSED KWINANA LIVE EXPORT FACILITY
2017-02-22
The PGA commends the Liberal Party's election commitment to build a dedicated Live Export facility at Kwinana.
Announced today, the Liberal Party have committed $110 million towards developing a dedicated live export facility, located at the Kwinana Outer Harbour – a proposal that the PGA has long advocated for.
Speaking at the announcement today PGA Vice President and Kojonup producer Digby Stretch applauded the announcement.
"The PGA has been a long time advocate for relocating the live export facilities out of Fremantle and met with the Premier to outline our members key priorities. Priorities that represented big gains for members and that were easily achievable by government," said Mr Stretch.
"A dedicated live export facility outside of the inner suburban Port of Fremantle was at the top of our list," he said.
According to Mr Stretch this announcement, clearly demonstrates how the PGA is able to effectively advocate on behalf of its members.
"Going to government with workable solutions, to member's issues has long been a hallmark of the PGA's advocacy strategy," said Mr Stretch.
The PGA sees it imperative that investment in agricultural infrastructure is prioritised, so that WA livestock supply chains remains efficient and producers remain competitive in an increasingly crowded market place.
The PGA is a member driven industry association, representing primary producers throughout WA.
News
2023-04-11

Important Industry Survey on Live Sheep Exports from WA Producers
read more >>

2022-07-17

PGA Podcast on Biosecurity threat posed by Foot & Mouth Disease
read more >>

2020-06-12

Tier 3 Railways Need to be Economically Viable
read more >>
CONTACT INFORMATION
POSTAL ADDRESS

PO Box 889
West Perth
Western Australia 6872

PHONE

(08) 9212 6900