Press Release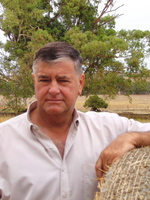 ROGUE ABATTOIR IS NOT REPRESENTATIVE OF INDUSTRY SAYS PGA
2012-02-10
The Pastoralists and Graziers Association (PGA) has labelled the NSW abattoir at the centre of animal cruelty allegations a rouge operator and has called Animal Liberation's demand for the installation of CCTV cameras in abattoirs another media stunt.
"This type of cruelty by workers at the Hawkesbury Valley Abattoir is certainly not representative of the meat processing industry and should be considered nothing more then the act of a rogue operator," PGA President Rob Gillam said.
"Whilst we are supportive of an investigation into this particular abattoir, calls for the mandatory installation of CCTV's in slaughterhouses by Animal Liberation are nothing more than a cheap media stunt initiated to give yet another activist group relevance."
"Whenever there is an allegation of animal cruelty on a farm, during transport, or in an abattoir, animal activists are quick to condemn the entire livestock industry, rather than focusing on the perpetrators."
"They are also quick to try and point the finger at the live export industry by continuing to rehash ABC's footage of animal cruelty in Indonesia."
"This is just another attempt by activists in their quest to ban all livestock production, rather than supporting proper animal welfare practices,' Mr Gillam said.
"We hope that the Gillard Government has learned from its previous mistake of almost destroying an entire industry by pandering to these activists and will not subject the livestock industry to another knee jerk policy decision."
News
2023-04-11

Important Industry Survey on Live Sheep Exports from WA Producers
read more >>

2022-07-17

PGA Podcast on Biosecurity threat posed by Foot & Mouth Disease
read more >>

2020-06-12

Tier 3 Railways Need to be Economically Viable
read more >>
CONTACT INFORMATION
STREET ADDRESS

Ground Floor, 28-42 Ventnor Ave
West Perth
Western Australia 6005

POSTAL ADDRESS

PO Box 889
West Perth
Western Australia 6872

PHONE

(08) 9212 6900

FAX

(08) 9485 0299