Press Release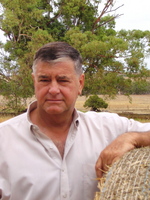 PGA WELCOMES LIBERAL AG POLICY
2013-02-26
Western Australia's leading farm lobby group, the Pastoralists and Graziers Association of WA (PGA) has welcomed the release of the WA State Liberal Party's agricultural policy saying it continues on the Barnett Government's strong record of support for the West Australian agricultural and pastoral industries.
"The Liberal's agricultural policy is an endorsement of Barnett Government's activities of the past four and a half years where agriculture has been embraced rather than ignored," Mr Gillam said.
"Specifically we welcome the creation of a dedicated environmental regulatory department which will clearly separate regulatory enforcement from environmental conservation."
"This separation of DEC will be the first step in addressing many of the shortcomings in the Environmental Protection Act, initially identified by the PGA over a decade ago and will strengthen the private property rights of landholders in Western Australia."
"Regarding the pastoral industry we are pleased that the Barnett Government continues to listen to and accept the PGA's recommendations on tenure, rangelands monitoring and the creation of a fair and equitable determination of pastoral rents," Mr. Gillam said.
"The long delays in addressing these issues have created a great level of uncertainty in the pastoral industry and the expeditious addressing of tenure and rent are paramount."
"The redevelopment of the State's sale yards at Muchea, Katanning and Plantagenet; the commercial cultivation of GM canola and cotton, supporting the live export industry, the removal of Wheat Exports Australia, regulating the use of handguns for pastoralists and establishing the Harvest Mass Management Scheme are but some of the advances made by the Barnett Government over the past four and a half years."
"Let us hope that whoever forms the next State Government will continue to support these advances and allow farmers and pastoralists to enjoy a free and open market rather than increasing unnecessary regulation and bureaucratic interference."
News
2023-04-11

Important Industry Survey on Live Sheep Exports from WA Producers
read more >>

2022-07-17

PGA Podcast on Biosecurity threat posed by Foot & Mouth Disease
read more >>

2020-06-12

Tier 3 Railways Need to be Economically Viable
read more >>
CONTACT INFORMATION
POSTAL ADDRESS

PO Box 889
West Perth
Western Australia 6872

PHONE

(08) 9212 6900