Press Release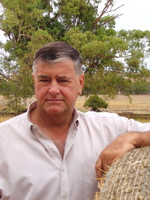 PGA WELCOMES ENGAGEMENT ON PASTORAL LEASE RENEWALS
2013-11-13
The Pastoralists and Graziers' Association (PGA) has welcomed today's engagement with the WA State Government over the 2015 pastoral lease renewal.
"As a result of today's positive meeting with representatives from the Department of Lands and the State Solicitor's Office we have established the framework for the development of a process which will move forward the 2015 lease renewal process," PGA President Rob Gillam said today.
"This is the first step in what is a very complicated and emotive issue and we welcome the State Government's decision to address pastoralists' concerns over the proposed new draft lease and engage proactively with the PGA to develop a reasonable and constructive resolution to the 2015 lease renewal process."
"We would like to thank Nationals' MP's Wendy Duncan and Vince Catania for facilitating today's meeting and working with the PGA to resolve this issue to the satisfaction of the pastoral industry," he said.
News
2023-04-11

Important Industry Survey on Live Sheep Exports from WA Producers
read more >>

2022-07-17

PGA Podcast on Biosecurity threat posed by Foot & Mouth Disease
read more >>

2020-06-12

Tier 3 Railways Need to be Economically Viable
read more >>
CONTACT INFORMATION
STREET ADDRESS

Ground Floor, 28-42 Ventnor Ave
West Perth
Western Australia 6005

POSTAL ADDRESS

PO Box 889
West Perth
Western Australia 6872

PHONE

(08) 9212 6900

FAX

(08) 9485 0299