Press Release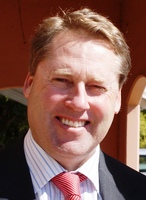 PGA WELCOMES ARG PLEDGE FOR COMPETITION IN GRAIN RAIL FREIGHT
2011-03-02
The Pastoralists and Graziers Association has welcomed the recent pledge by Australian Railway Group (ARG) to introduce competition into the WA Grain Freight Network if the ACCC upholds its recent ruling against Grain Express.
PGA Western Graingrowers Committee Chairman Rick Wilson said that the PGA is fully supportive of ARG's position that unless Grain Express is removed, the State's largest rail freight bulk carrier will cease its grain freight business, to the detriment of WA's grain industry and regional communities.
"Competition is the key to providing a least cost pathway to port for grain producers and maximising the amount of grain on rail," Mr Wilson said.
"Grain Express gives CBH monopoly control over the entire Grain Freight network and the recent awarding by CBH of all rail services to Watco means that all rail freight is now controlled by CBH."
In December the CBH Group announced plans to invest up to $175million in rolling stock as part of a its decision to award its long-term grain rail contract to United States company Watco.
The new 10year agreement which commences in May 2012 and would see Watco operate and maintain the new rolling stock to be acquired by CBH, which would include a number of new locomotives and a fleet of wagons to be delivered over the next 18months.
"I fail to see how limiting rail access to CBH would benefit growers and their communities," Mr Wilson said.
"The State's most experienced freight operator, ARG will be forced to shut down its grain operation, which means there will be no competition on freight rates, no certainty of adequate rolling stock and no guarantees that the maximum amount of grain remains on rail."
"ARG has 27locomotives and 700wagons that will be scrapped if Grain Express is not removed."
"These train sets are dedicated to the Grain network and are ready to roll, while CBH is in the process of ordering their rolling stock, which may be ready in 12months."
"Having another, experienced rail operator will ensure that there is open and transparent costs and will maximise the amount of grain on rail, lessening the impact on our roads and communities."
News
2023-04-11

Important Industry Survey on Live Sheep Exports from WA Producers
read more >>

2022-07-17

PGA Podcast on Biosecurity threat posed by Foot & Mouth Disease
read more >>

2020-06-12

Tier 3 Railways Need to be Economically Viable
read more >>
CONTACT INFORMATION
POSTAL ADDRESS

PO Box 889
West Perth
Western Australia 6872

PHONE

(08) 9212 6900