Press Release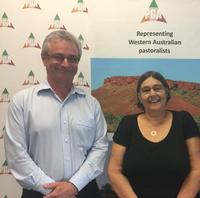 PGA Pastoral Conference - BROOME - 27 April 2018
2018-04-17
The PGA Kimberley Division is proudly hosting the PGA Kimberley Pastoral Conference in Broome on Friday 27 April.
The Conference will kick off with a Breakfast Workshop that will explore the power and potential of social media to communicate what modern agriculture in Australia is all about.
Confirmed speakers for the formal Conference sessions include:
Senator Dean Smith, representing the Federal government, will provide an overview of Australian Government policies and programs that support a vibrant globally competitive pastoral industry;

Hon. Adam Giles, Hancock Agriculture General Manager External Affairs will outline the company's vision for the WA pastoral industry;

David Beatty from Meat Livestock Australia (MLA) will provide an overview of the wide range of MLA funded programs that support the global cattle supply chain from farm to customer;

Simon Westaway, CEO of Australian Livestock Exporters' Council will discuss the current state of play in the global livestock supply chain;

Neil Thompson from ATEA Consulting will present a new assessment of Kimberley Road Networks and future developments for improved livestock transport efficiency;

Bruce Mullin, DPIRD Director of Livestock Research, Development and Innovation, will update conference on the Northern Beef Development Project and other DPIRD projects supporting northern WA Pastoralism;

Darrylin Gordon, the 2018 WA Rural Women of the Year, will speak on how she is empowering indigenous youth to participate in Kimberley Pastoralism and the broader regional economy;

Dr James Smith, Australian Wildlife Conservancy's Kimberley Regional Ecologist, will explain the philosophy and history behind the innovative sub-leasing of part of their Charnley River conservation lease back to a pastoral company.
A number of Elected PGA members will also be attending including
PGA Kimberley Division Chair, Lyn (Jim) Craig, who is hosting the Conference;

PGA President Tony Seabrook;

PGA Vice-President and Pastoral Committee Chair, Locky McTaggart; and

PGA Livestock Committee Chair, Chris Patmore.
Their attendance at the conference gives attendees an excellent opportunity to discuss with them PGA policies and advocacy in the Pastoral space.
After the formal conference sessions, PGA members are invited to attend a PGA Members Only Session which will start with the PGA Kimberley Division AGM followed by a Policy Session where PGA members will have an opportunity to discuss policy issues that impact on your business activities, both current and future.
Policy topics will include tenure, biosecurity, native title, cross-boundary management issues (fire, dogs, weeds etc) and topics raised by members. PGA Policy Officer Doug Hall will run this session supported by PGA Native Title & Industry Liaison Officer Stewart Palmer. We look forward to your active participation as input from our members is essential for effective PGA policy and advocacy.
During morning tea and lunch you will be able to visit trade booths displaying a range of technologies that can make you pastoral activities more efficient and safer.
The day will be topped off by an evening BBQ for all conference speakers and attendees.
News
2023-04-11

Important Industry Survey on Live Sheep Exports from WA Producers
read more >>

2022-07-17

PGA Podcast on Biosecurity threat posed by Foot & Mouth Disease
read more >>

2020-06-12

Tier 3 Railways Need to be Economically Viable
read more >>
CONTACT INFORMATION
POSTAL ADDRESS

PO Box 889
West Perth
Western Australia 6872

PHONE

(08) 9212 6900