Press Release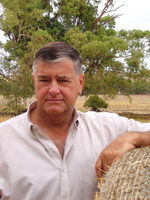 PGA CALLS FOR REVIEW OF ENVIRONMENTAL LAWS
2012-06-07
The Pastoralists and Graziers Association (PGA) has thrown its support behind Murray Wellington MLA Murray Cowper's call for the Barnett State government to follow Queensland's lead in attacking the anomalies and injustices of its vegetation and water legislation that are destroying the property rights of private landowners.
PGA President Rob Gillam said the recent decision by the Queensland Government to suspend all investigations and prosecutions against landowners pending a review of the effectiveness of Queensland's Vegetation Management Act should be followed by the WA State Government.
"The Barnett Government has consistently promised reforms to address the serious issue of private property rights, especially problems created by our native vegetation laws which prohibit the clearing of thousands of hectares of productive farm land without any compensation or right of appeal for landholders," Mr Gillam said.
"Yet in the past four years there has been an increase in the number of prosecutions for clearing native vegetation, resulting in some farmers being imprisoned, or forced into bankruptcy trying to appeal against ad hoc decisions by the Department of Environment and Conservation."
"Even when landowners win their case in court the agencies simply refuse to withdraw conservation notices, thus prohibiting any productive use of their land."
"The fact that the latest Budget provides more than $40 million to enforce land clearing provisions shows that it is time for the Barnett Government to take control of its environmental watchdogs and fulfill their election promises of fair and just property rights for private land owners."
"It is time for our Ministers and backbenchers to follow Mr Cowper's lead and support the interests of their constituents in ensuring that the rights of private landowners are no longer strangled through the actions of faceless and unaccountable bureaucrats."
News
2023-04-11

Important Industry Survey on Live Sheep Exports from WA Producers
read more >>

2022-07-17

PGA Podcast on Biosecurity threat posed by Foot & Mouth Disease
read more >>

2020-06-12

Tier 3 Railways Need to be Economically Viable
read more >>
CONTACT INFORMATION
POSTAL ADDRESS

PO Box 889
West Perth
Western Australia 6872

PHONE

(08) 9212 6900