Press Release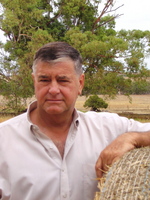 PGA CALLS FOR GOVERNMENT ACTION ON GASCOYNE FIRES
2012-01-17
The Pastoralists and Graziers Association (PGA) is calling on the State Government to immediately declare the fires in the Gascoyne Region a natural disaster in order for affected pastoralists to access relief funding.
"So far over 375,000hectares have been burnt in the Gascoyne region and the fire is expected to burn for another two weeks," PGA President Rob Gillam said.
"Although the homesteads have been saved further infrastructure including fences and water points have been destroyed and stock losses have not yet been determined."
"However what is most distressing is the destruction of grazing areas which are the primary source of feed."
"Under the Western Australian Natural Disaster Relief and Recovery Arrangements (WANDRRA) primary producers whose assets or businesses have been affected by a natural disaster may be eligible for assistance with freight costs for stock agistment, feed, repairs to boundary fences and hiring of consultants."
"However this can only occur once the State Government declares the fire a natural disaster!"
"The Government was quick to declare the recent Margaret River fire and the 2009/10 fires in Toodyay and Badgingarra natural disasters and needs to step in immediately in order to assist producers in the Gascoyne," said Mr Gillam.
"Just because a fire is located in an isolated area, by no means lessens its impact on a community."
"Access to grazing areas is the prime economic activity for producers and when this is taken away so are their livelihoods."
"We are pleased that North West MLA Vince Catania has backed the PGA's call to declare the Gascoyne fire a natural disaster area and that he will be personally taking this issue up with the Premier."
News
2020-06-12

Tier 3 Railways Need to be Economically Viable
read more >>

2020-06-03

Time for McGowan to Stand Up for Live Exports
read more >>

2020-05-28

PGA Urges Federal Govt to Provide Exemption
read more >>
CONTACT INFORMATION
STREET ADDRESS

Ground Floor, 28-42 Ventnor Ave
West Perth
Western Australia 6005

POSTAL ADDRESS

PO Box 889
West Perth
Western Australia 6872

PHONE

(08) 9212 6900

FAX

(08) 9485 0299