Press Release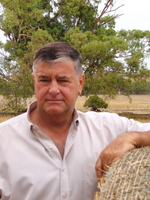 PASTORALISTS DEMAND IMMEDIATE ACTION FROM PREMIER OVER CARNARVON BUSHFIRES
2012-01-30
The Pastoralists and Graziers Association (PGA) has called for Premier Colin Barnett to declare the bushfires in Carnarvon, which have been burning since the 27th of December, a Natural Disaster.
"Over 8,500square kilometres of prime grazing land has been destroyed so far and there is no end is sight," PGA president Rob Gillam said.
"Over 20stations are now involved in fighting and trying to contain the 1250km boundary, which is one of the largest fire fronts ever seen in the State."
"Many pastoralists are facing financial ruin due to the loss of their pastures, the destruction of watering infrastructure, damage to fences and the cost of moving their livestock to safe ground, while continuing to supply equipment and manpower to contain the fires."
"The Government seems reluctant to recognise the devastating impact these fires are having on the livelihoods of pastoral lease holders, their families and their employees," he said.
"There is no reason why the Government cannot make a Natural Disaster Declaration and allow affected pastoralists to access relief funding under the Western Australian Natural Disaster Relief and Recovery Arrangements (WANDRRA)"
"Well over $240,000 damage has been done to Crown land which is leased by pastoralists and the Government has spent millions providing fire crews, equipment and water bombers - yet FESA Minister Troy Buswell remains reluctant to make a declaration."
"It is unacceptable that pastoralists who pay their rents, pay their rates, pay their FESA levies, are being denied the same level of State Government assistance received by fire affected residents in the South West and the outer metropolitan areas."
"Premier Barnett needs to step in and show his support for the pastoral industry in Western Australia by making an immediate Natural Disaster Declaration."
News
2023-04-11

Important Industry Survey on Live Sheep Exports from WA Producers
read more >>

2022-07-17

PGA Podcast on Biosecurity threat posed by Foot & Mouth Disease
read more >>

2020-06-12

Tier 3 Railways Need to be Economically Viable
read more >>
CONTACT INFORMATION
POSTAL ADDRESS

PO Box 889
West Perth
Western Australia 6872

PHONE

(08) 9212 6900