Press Release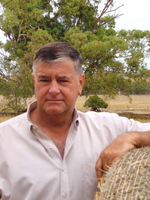 KIMBERLEY PASTORALISTS CALL FOR FERAL HORSE CULL
2013-10-08
The Pastoralists and Graziers Association of WA (PGA) is calling for Lands Minister Brendon Grylls to immediately initiate an aerial cull on feral horses at two pastoral leases (Lake Gregory and Billiluna) in the east Kimberley.
"The Kimberley pastoral industry is facing an economic, environmental and animal welfare catastrophe unless there is an immediate cull on feral horses at Lake Gregory," PGA President Rob Gillam said.
"The high number of feral horses, which some have estimated is as high as 9,000 is impacting on the biodiversity and cultural values of the Lake Gregory wetlands through overgrazing, trampling and nutrient runoff."
"And with the upcoming wet season there is a major risk of these horses being bogged and suffering a slow and agonizing death, as was the case last year when more than 100 feral horses perished on neighbouring Balgo Downs under similar circumstances."
"Aerial control of feral horses is considered by animal welfare organisations, including the RSPCA, to be the most humane way to deal with this issue and previous decisions to initiate such controls were stopped through Ministerial handballing following pressure from animal rights activists, many of whom may have never set foot on a pastoral station and seen the damage that these pests do."
"Lake Gregory and Billiluna are active pastoral stations under the control of the Department of Aboriginal Affairs and as pastoral lessees they have a legislated responsibility to control declared pests on their property."
"It is up to Minister Grylls, who is in charge of all pastoral leases, to arrange for an immediate aerial cull on the feral horses at Lake Gregory before this situation becomes uncontrollable."
"The pastoral industry, the environment and most importantly the horses can no longer afford to suffer through continued Ministerial indifference."
The PGA supports an aerial cull carried out by professional aerial platform shooters in accordance with strict conditions and monitoring as the most humane way to deal with these feral animals. In addition the PGA is supportive of the development of a long-term management plan by the Pastoral Lands Board and the Kimberley Regional Bio-security Group.
The PGA is concerned that any delay beyond early November will add to existing animal welfare issues with an increase in the number of foals on the ground.
News
2020-06-12

Tier 3 Railways Need to be Economically Viable
read more >>

2020-06-03

Time for McGowan to Stand Up for Live Exports
read more >>

2020-05-28

PGA Urges Federal Govt to Provide Exemption
read more >>
CONTACT INFORMATION
STREET ADDRESS

Ground Floor, 28-42 Ventnor Ave
West Perth
Western Australia 6005

POSTAL ADDRESS

PO Box 889
West Perth
Western Australia 6872

PHONE

(08) 9212 6900

FAX

(08) 9485 0299