Press Release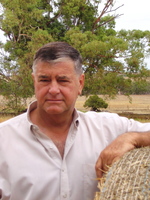 TALLENTIRE GAFFE RAISES FARMER FURORE
2013-12-05
Western Australian farmers are furious over Shadow Environment Minister Chris Tallentire's criticism over the Barnett Government's changes to existing land clearing laws which increase the amount of limited clearing from one hectare to five hectares per year, saying the Labor MP has no understanding of contemporary farming practices and the work that farmers play in protecting the environment.
"What is clear from the Shadow Environment Minister's comments is that he is more concerned with appeasing the green factions within the Labor Party than supporting hard working farming families who have been the stewards of the land for generations," PGA President Rob Gillam said.
"Mr Tallentire's suggestion that the changes to this legislation will allow farmers to clear an extra 18,000 hectares per year without any controls is laughable, as one can only receive a permit to perform limited clearing provision such as widening vehicle tracks to accommodate larger, more efficient machinery."
"As well, his vacuous statements that clearing by farmers is the major source of land degradation in WA are as false as is his assumption that land clearing by farmers have destroyed over 91,220 hectares of native vegetation from July 2008 to June 2013."
"Mr Tallentire failed to state that this figure includes areas cleared for State Development, Local Government, utility companies and urban property developers and in fact according to the DER of the 183 clearing permits issued from 1 April to 30 June 2013 only 16 permits were issued for agriculture, which is less than 9%."
"Farmers in Western Australia are well aware of the impact that dryland salinity places on our regional communities, which is why they have adopted and continue to advance farming practices to minimise soil degradation."
"It is not up to ill informed and biased politicians like Chris Tallentire to tell farmers how to best manage their land and stop them from clearing small amounts of regrowth without facing criminal convictions and financial ruin," Mr Gillam said.
"Mr Tallentire and his Labor colleagues should be following the example set by the Premier and take the concerns of their farmer constituents as seriously as their urban counterparts."
News
2023-04-11

Important Industry Survey on Live Sheep Exports from WA Producers
read more >>

2022-07-17

PGA Podcast on Biosecurity threat posed by Foot & Mouth Disease
read more >>

2020-06-12

Tier 3 Railways Need to be Economically Viable
read more >>
CONTACT INFORMATION
POSTAL ADDRESS

PO Box 889
West Perth
Western Australia 6872

PHONE

(08) 9212 6900