Press Release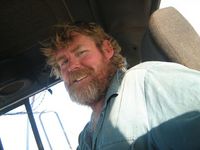 REVISIT LAND CLEARING - BANS URGES PGA
2010-05-10
The Barnett Government has been urged to pre-empt the latest Senate Inquiry into injustices created by laws banning land clearing, by rectifying WA's own processes of blighting and resuming private property.
Private Property Rights Chairman for the Pastoralists and Graziers' Association Gary Peacock said the latest Senate Inquiry had echoed previous State and Federal reviews in confirming that a massive abuse of private property rights had occurred and was continuing in Australia.
PGA sent a delegation to address the Senate Inquiry when it met in Perth recently.
"The public 'theft' of private land in Western Australia since the 1990's reached the point where the Liberal Party promised to reform the system, prior to the 2009 election," Mr Peacock said.
"But nothing has happened and the Minister for the Environment continues to appoint more policemen to enforce her conservation laws while her department continues to prosecute and take land from private individuals, which in many cases is then transferred to mining, development and other interests, under the dubious title of environmental offsets."
"The system has grown to become one of the greatest abuses against private property ownership in our history, yet it still goes unnoticed by the general public," Mr Peacock said.
He welcomed recommendations by the Senate Inquiry that supported federal and state reviews of conservation-based legislation affecting private property.
"But the onus is still on the State to remove the most serious anomalies and to adjust the processes that now transform legitimate landowners into criminals and allow them to be harassed and dispossessed by bureaucrats."
News
2023-04-11

Important Industry Survey on Live Sheep Exports from WA Producers
read more >>

2022-07-17

PGA Podcast on Biosecurity threat posed by Foot & Mouth Disease
read more >>

2020-06-12

Tier 3 Railways Need to be Economically Viable
read more >>
CONTACT INFORMATION
POSTAL ADDRESS

PO Box 889
West Perth
Western Australia 6872

PHONE

(08) 9212 6900