Press Release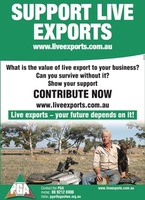 PGA launches 'Support Live Exports' marketing campaign
2018-07-12
The Pastoralists and Graziers Association today launched the PGA 'Support Live Exports' marketing campaign, which will highlight the economic and social consequences of banning live sheep exports on producers, regional families, regional communities, rural businesses and WA's international trading partners.
The campaign includes a dedicated website www.liveexports.com.au where farmers, rural businesses and community members can sign on and contribute to support the live sheep export industry.
PGA President Tony Seabrook said today's launch is the first part of what will be an evolving campaign which will include social media, advertising, interviews, industry events and lobbying to dispel the myths about this vital industry.
"Rural Western Australia can't afford to sit still on this issue," Mr Seabrook said.
"Everyone who has an interest in farming needs to get behind this campaign and show their support for this vital industry."
"Live sheep exports underpin the Western Australian sheep meat industry, which is why it is imperative that as an organisation representing primary producers, we have the ability respond quickly and professionally to the actions of those who want to shut it down.
"We are seeking the support of producers, regional and rural businesses, and the general public to continue our work in promoting the importance of live sheep exports, and to bring balance back into the issue to Fix it - Don't ban it."
News
2023-04-11

Important Industry Survey on Live Sheep Exports from WA Producers
read more >>

2022-07-17

PGA Podcast on Biosecurity threat posed by Foot & Mouth Disease
read more >>

2020-06-12

Tier 3 Railways Need to be Economically Viable
read more >>
CONTACT INFORMATION
POSTAL ADDRESS

PO Box 889
West Perth
Western Australia 6872

PHONE

(08) 9212 6900