Press Release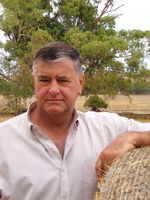 PGA WELCOMES ACTION ON WILD DOGS
2013-06-06
Western Australian livestock producers are applauding State Agriculture Minister Ken Baston's announcement of the completion of the 820km upgrade of the State Barrier Fence which includes the installation of Lapwire to stop wild dogs digging underneath.
"Wild dogs are the most vicious and brutal predators in WA, destroying tens of thousands of livestock each year especially in the rangelands," Pastoralists and Graziers Association (PGA) President Rob Gillam said today.
"Each year producers in Western Australia lose livestock worth millions of dollars due to wild dog attacks and what was once considered to be only a 'pastoral' problem has now extended to the agricultural region."
"This upgrade will not only protect livestock against wild dog attacks but will compliment other wild dog control measures currently undertaken by landholders, including baiting and trapping," he said.
"We commend Minister Baston's action in addressing the issue of wild dog control and look forward to further initiatives which will assist producers in stopping this scourge on the Western Australian livestock industry."
News
2023-04-11

Important Industry Survey on Live Sheep Exports from WA Producers
read more >>

2022-07-17

PGA Podcast on Biosecurity threat posed by Foot & Mouth Disease
read more >>

2020-06-12

Tier 3 Railways Need to be Economically Viable
read more >>
CONTACT INFORMATION
STREET ADDRESS

Ground Floor, 28-42 Ventnor Ave
West Perth
Western Australia 6005

POSTAL ADDRESS

PO Box 889
West Perth
Western Australia 6872

PHONE

(08) 9212 6900

FAX

(08) 9485 0299