Press Release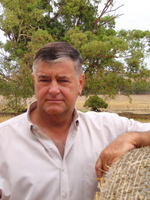 PGA SHOW OF FORCE IN RE-ELECTION OF PRESIDENT
2013-03-01
The Pastoralists and Graziers Association (PGA) have re-elected President Rob Gillam for a sixth term at the Association's AGM held yesterday.
Mr Gillam defeated Kimberley pastoralist Ruth Webb-Smith with a strong majority in the first contested election held by the Association in over 30 years.
Mr Gillam said the result clearly showed the strong confidence that PGA members have in the current leadership.
"This is a tremendous endorsement by the members of the PGA of the hard work that has been done by the Executive Team and I look forward to continuing to serve our members' interests in the best possible manner," Mr Gillam said.
Mr Gillam stated that under his leadership the PGA would address several key issues over the next year including securing a stronger tenure for pastoral lease holders; establishing a fair and more equitable system to determine pastoral rents; reversing the Government's decision to remove the Native Title Respondent Funding Scheme; opposing any further regulatory increases on live exports; repeal the GM Free Crop Areas Act; and ensuring construction of the James Point Private Port begins.
"Our members do not expect our Association to solve every problem, but they do expect us to fight for those issues which will deliver the fairest and best outcomes for the entire industry," he said.
"It is our unfinished task to make sure that State and Federal Governments work on our behalf; that they encourage free enterprise, reward individual initiative and open the doors of opportunity to every farmer and pastoralist in this State".
News
2023-04-11

Important Industry Survey on Live Sheep Exports from WA Producers
read more >>

2022-07-17

PGA Podcast on Biosecurity threat posed by Foot & Mouth Disease
read more >>

2020-06-12

Tier 3 Railways Need to be Economically Viable
read more >>
CONTACT INFORMATION
POSTAL ADDRESS

PO Box 889
West Perth
Western Australia 6872

PHONE

(08) 9212 6900