Press Release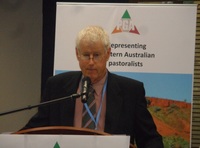 PGA SAYS "IT'S ALL ABOUT THE BILL, MINISTER"
2016-05-03
In a show of unity, pastoralists representing over 80 stations from all over Western Australia last Friday converged on Claremont showgrounds to debate the contentious draft Land Administration Amendment Bill 2016 at a forum open to all pastoralists which was organised by the Pastoralists and Graziers Association of WA (PGA).
Industry new comers as well as respected and established pastoral business identities heard legal counsel that definitively stated pastoral lessees would be subject to more restrictive lease conditions, should this Bill go ahead.
The meeting unanimously rejected the Bill in its current form, recognising the serious limitations of this Bill and authorised the PGA President to continue talks with the Minister in an effort to make changes that would address industry's concerns with the draft Bill.
"The pastoral industry has already seen the forced resignation of the Chair of the Pastoral Lands Board (PLB). Furthermore, in a show of hands, the meeting overwhelmingly supported the retention of the PLB."
"However, the Minister has not shown a willingness to meet with PGA to further discussions and made it abundantly clear that he intends to push on without the support of the pastoral industry," said Tony Seabrook, PGA President.
"As Western Australia's oldest, largest and only state-wide organisation representing pastoralists, the PGA has a responsibility to critique his Bill."
"The Minister now seems determined to undermine the PGA by painting it as a negative influence, when it is only doing its duty by the industry."
"As a result, the PGA has no other recourse than to address this issue directly with the Premier and other senior members of cabinet."
"The PGA, on behalf of the WA pastoral industry, wants the Bill progressed and passed but not in its current form. Yes, the PGA has rejected past proposals because they offered no benefit to pastoralists. Unfortunately this current draft is nothing more than a rehash of all the old proposals previously rejected by industry," said Tony Seabrook, PGA President.
News
2023-04-11

Important Industry Survey on Live Sheep Exports from WA Producers
read more >>

2022-07-17

PGA Podcast on Biosecurity threat posed by Foot & Mouth Disease
read more >>

2020-06-12

Tier 3 Railways Need to be Economically Viable
read more >>
CONTACT INFORMATION
STREET ADDRESS

Ground Floor, 28-42 Ventnor Ave
West Perth
Western Australia 6005

POSTAL ADDRESS

PO Box 889
West Perth
Western Australia 6872

PHONE

(08) 9212 6900

FAX

(08) 9485 0299