Press Release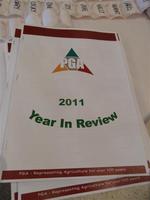 PGA PRESIDENT URGES PRODUCERS TO EMBRACE THE FUTURE
2012-03-01
Re-elected President of the Pastoralists and Graziers Association (PGA), Rob Gillam, has called on producers to embrace the future and fight against previously accepted practices in order to prosper, at the Association's 105th Annual General Meeting.
"Agriculture in Western Australia is on the dawn of a new era, one that has not been seen since the Green Revolution of 50years ago and as in the past, producers will need to choose whether to embrace this change and prosper, or refuse to accept it and allow their industry to decline," said Mr Gillam.
"It is no longer possible for producers to continue to believe that they do not have to change and that the accepted practices and attitudes of the past can continue."
Mr Gillam outlined that the PGA had dealt with many issues over the past year including the Federal Government's suspension of Live Exports and the implementation of a Carbon Tax, and will continue to address numerous issues in the year ahead.
"There are few here today that would argue against calling 2011 as one of the most trying and challenging years faced by producers in Western Australia," Mr Gillam said.
"We have dealt with many issues throughout the past year and a few key challenges we will continue to face include the continuation of the live export trade, the role of the RSPCA, national representation in the grains industry, the Carbon Tax and pastoral rents, tenure and rangeland reform."
"For 105years now, the PGA has been the leader in agriculture in Western Australia, fighting against previously accepted practices, supporting competition and embracing change."
"We must remain open to seizing the opportunities of the future and not be fearful about letting go of the past."
A copy of Mr Gillam's address is attached.
News
2023-04-11

Important Industry Survey on Live Sheep Exports from WA Producers
read more >>

2022-07-17

PGA Podcast on Biosecurity threat posed by Foot & Mouth Disease
read more >>

2020-06-12

Tier 3 Railways Need to be Economically Viable
read more >>
CONTACT INFORMATION
POSTAL ADDRESS

PO Box 889
West Perth
Western Australia 6872

PHONE

(08) 9212 6900