Press Release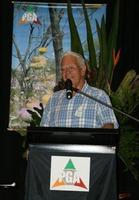 PGA PAYS TRIBUTE TO MISSING INDUSTRY LEADER
2011-10-11
The Pastoralists and Graziers' Association (PGA) has paid tribute to missing businessman Bryn Martin, calling the James Point Private Port Chief Executive a true visionary and industry leader.
PGA President Rob Gillam said Mr Martin was a staunch advocate for progress and development in the State and his contribution to industry would be greatly missed.
"Bryn can only be described as a true industry leader," Mr Gillam said.
"Bryn's staunch advocacy and support for the development of the James Point Private Port was tempered with honesty and integrity."
"The PGA was fortunate to have Bryn as one of our key speakers at our last convention and his regular discussions with our staff members will be greatly missed."
"Our thoughts are with Bryn's family during this time."
News
2023-04-11

Important Industry Survey on Live Sheep Exports from WA Producers
read more >>

2022-07-17

PGA Podcast on Biosecurity threat posed by Foot & Mouth Disease
read more >>

2020-06-12

Tier 3 Railways Need to be Economically Viable
read more >>
CONTACT INFORMATION
STREET ADDRESS

Ground Floor, 28-42 Ventnor Ave
West Perth
Western Australia 6005

POSTAL ADDRESS

PO Box 889
West Perth
Western Australia 6872

PHONE

(08) 9212 6900

FAX

(08) 9485 0299