Press Release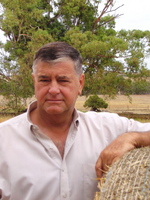 PGA CAUTIOUS OVER RSPCA CLAIMS
2013-03-07
Western Australian livestock producers remain cautious over the sincerity of RSPCA President Lynn Bradshaw emphasis that her organisation is a mainstream animal welfare group.
"Whilst we applaud Ms Bradshaw's fortitude in making clear distinction between the RSPCA and animal liberation groups, the fact is the RSPCA continues to criticise any action taken by the Government which does not involve the cessation of all livestock exports," Pastoralists and Graziers Association President Rob Gillam said.
"As recently as last Christmas the RSPCA was urging the public to send a card to their MP demanding the Government end the live export of Australian animals because it is cruel and inhumane."
"This is hardly the activity of a "mainstream" animal welfare group which does not object to animals being raised for food and fibre," he said.
"If the RSPCA truly wants to distance itself from the animal liberation activists that have permeated its ranks and are using the organisation as a platform to end all livestock production, then they need to acknowledge that the live export trade is not cruel and inhumane and work with the industry to improve animal welfare standards in developing nations."
News
2023-04-11

Important Industry Survey on Live Sheep Exports from WA Producers
read more >>

2022-07-17

PGA Podcast on Biosecurity threat posed by Foot & Mouth Disease
read more >>

2020-06-12

Tier 3 Railways Need to be Economically Viable
read more >>
CONTACT INFORMATION
POSTAL ADDRESS

PO Box 889
West Perth
Western Australia 6872

PHONE

(08) 9212 6900