Press Release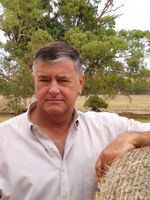 PGA BACKS IRANIAN SHEEP DEAL
2013-02-13
Western Australia's leading farm lobby group, the Pastoralists and Graziers Association (PGA) is calling on the Federal Government to support the resumption of live exports of sheep and cattle to Iran through the Qeshm Free Trade Zone.
PGA President Rob Gillam said Iranian company E1 Airsa's plan to build a modern ESCAS compliant abattoir on Qeshm Island would not only provide a new market for live exporters but would be a significant windfall for West Australian sheep producers.
"The establishment of a new ESCAS compliant market in what was a major buyer of Australian sheep 30years ago would provide a much needed boost for many WA producers, given the current downturn in live exports to the Middle East," PGA President Rob Gillam said.
"The potential of the Iranian market is enormous, with some estimates as high as a million sheep per year which would add significant competition to the West Australian sheep exports."
"At a time when some countries are closing their borders to Australian exports due to internal political policies of self sufficiency, the Iranian Government is pushing to re-establish trade relations with Australia and open its market for the benefit of Australian livestock producers."
"Whilst there remain a number of hurdles in resuming the trade, most notably the establishment of an MOU, animal health protocols and ESCAS approvals, these are not insurmountable," he said.
"The Gillard Government needs to step in and ensure that market access opportunities are not missed and support the opening of this vital trade for the West Australian Live Export Industry."
News
2023-04-11

Important Industry Survey on Live Sheep Exports from WA Producers
read more >>

2022-07-17

PGA Podcast on Biosecurity threat posed by Foot & Mouth Disease
read more >>

2020-06-12

Tier 3 Railways Need to be Economically Viable
read more >>
CONTACT INFORMATION
POSTAL ADDRESS

PO Box 889
West Perth
Western Australia 6872

PHONE

(08) 9212 6900