Press Release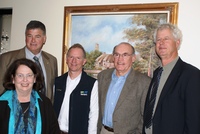 NEW WELLARD GROUP - PGA PARTNERSHIP
2009-09-03
One of Australia's fastest growing agribusinesses, the Wellard Group, has joined forces with the Pastoralists and Graziers' Association to address and promote key issues affecting WA's livestock and farming industries.
PGA President Rob Gillam and Wellard Rural Exports Managing Director, Steve Meerwald have jointly announced a three year partnership aimed at developing innovative policies for agriculture.
Mr Gillam said the new partnership would draw on an exclusive base of production, shipping and trading experience.
"We expect the new PGA-Wellard alliance not only to assist in reversing WA's rapidly declining sheep industry, but also to provide a more secure underwriting for our cattle industry by promoting strategic alliances between producers and overseas consumers," he said.
Both leaders said their organisations also pledged to intensify their efforts to achieve ongoing improvement to Western Australia's animal welfare standards.
Mr Meerwald said the new alliance formalised a long-standing working partnership between the Wellard Group and the PGA on livestock exports.
Wellard has recently purchased seven rural properties totalling 19,000hectares in the Kojonup and Watheroo areas which enhances the company's ability to become an active and considered contributor of ideas and support to PGA.
He said Wellard was keen to generate greater revenue security for livestock producers and had recently introduced forward contracts to ensure that market signals highlighting the strength of world demand for Australian livestock and commodities were able to be passed directly to the people growing the product.
"We will be working with PGA members throughout WA to maximise their returns and their pricing security," he said.
In attached photo from left to right - Ruth Webb-Smith, Rob Gillam, Steve Meerwald, Tim D'Arcy, Tony Seabrook
News
2023-04-11

Important Industry Survey on Live Sheep Exports from WA Producers
read more >>

2022-07-17

PGA Podcast on Biosecurity threat posed by Foot & Mouth Disease
read more >>

2020-06-12

Tier 3 Railways Need to be Economically Viable
read more >>
CONTACT INFORMATION
STREET ADDRESS

Ground Floor, 28-42 Ventnor Ave
West Perth
Western Australia 6005

POSTAL ADDRESS

PO Box 889
West Perth
Western Australia 6872

PHONE

(08) 9212 6900

FAX

(08) 9485 0299