Press Release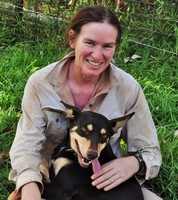 NEW CHAIRPERSON FOR PGA KIMBERLEY DIVISION
2015-12-16
Anne Marie Huey from Dampier Downs Station has been elected the new chairperson of the Pastoralists & Graziers Association (PGA) Kimberley Division.
Originally from Queensland, Anne Marie has an extensive background in beef production and grazing management, as well as mining and tourism industries. Anne Marie has been working with her partner, Michael De Long, on Dampier Downs since arriving in the Kimberley in 2007.
Jed (Peter) O'Brien from Liveringa Station is the new Vice Chairman and Wendy Brockhurst from Larrawa Station remains Treasurer.
PGA President Tony Seabrook congratulated Ms Huey on her appointment, saying the Kimberley Division remained an integral part of the PGA family.
"It is refreshing and an exciting time for the PGA to have a person of Anne Marie's calibre and youth take the reins of the PGA's Kimberley Division," Mr Seabrook said.
"The Kimberley Division represents the interests of some of the most isolated and dynamic members of the PGA and is the key to ensuring that the issues facing northern pastoralists are championed by our Association."
"On behalf of the organisation, I wish Anne Marie and Jed the best of success in their new roles and congratulate Wendy on once again continuing in her role as Treasurer.
"I would also like to acknowledge and thank most sincerely Peter Camp who is stepping down as the PGA Kimberley Division Chairman after three years. His tireless work for the PGA Kimberley Division is well recognised and appreciated," Mr Seabrook said.
News
2023-04-11

Important Industry Survey on Live Sheep Exports from WA Producers
read more >>

2022-07-17

PGA Podcast on Biosecurity threat posed by Foot & Mouth Disease
read more >>

2020-06-12

Tier 3 Railways Need to be Economically Viable
read more >>
CONTACT INFORMATION
POSTAL ADDRESS

PO Box 889
West Perth
Western Australia 6872

PHONE

(08) 9212 6900