Press Release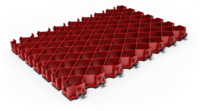 MEMBERS DISCOUNT - Diamond Grid
2016-04-01
Diamond Grid, a new surface stabilisation system that is revolutionising how landholders deal with surface stabilisation and drainage problems, which will save you money and will definitely save you some blisters too.
The product is being used extensively in mining, landscaping, civil engineering and cattle industries and its diversity has been proven with its recent use in a Papua New Guinea airstrip.
Save up to 60% on the cost of concrete slabs. Concrete is very expensive, particularly in rural and remote areas and Diamond Grid provides a great alternative. Landowners can install the grids themselves, meaning you save not only on concrete but also labour costs.
Diamond Grids can have multiple applications across your property, creek crossings, cattle yards, drain covers, water and feed troughs, shed flooring and extensions off shed aprons.
To find out more, please see the attached flyer or contact Rob Spiccia at All Earth to discuss the "PGA member rate" for Diamond Grid on 08 9459 9588 or email diamondgrid@allearth.com.au
News
2023-04-11

Important Industry Survey on Live Sheep Exports from WA Producers
read more >>

2022-07-17

PGA Podcast on Biosecurity threat posed by Foot & Mouth Disease
read more >>

2020-06-12

Tier 3 Railways Need to be Economically Viable
read more >>
CONTACT INFORMATION
POSTAL ADDRESS

PO Box 889
West Perth
Western Australia 6872

PHONE

(08) 9212 6900