Press Release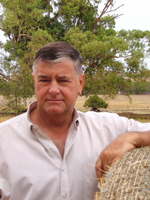 GOLDEN WALKLEY TARNISHED BY ACTIVISTS SAYS PGA
2011-11-29
The awarding of this year's Golden Walkley to ABC Four Corners for "A Bloody Business" clearly shows that the mainstream media has lost its 'social licence' with rural Australia, the Pastoralists and Graziers Association (PGA) said today.
"This is an outstanding example of how sensationalist journalism, normally associated with tabloids and TV programs such as News of the World or The Jerry Springer Show has infiltrated the halls of the ABC," PGA President Rob Gillam said.
"Whilst the Greens and the Labor Parties are demanding inquiries into Australian media organisations like Fairfax and News Ltd over unfair reporting practices, ABC Four Corners has been rewarded for one of the most biased and unprofessional pieces of propaganda ever to be seen by the Australian public."
"ABC Four Corners based their investigation on footage taken by Animals Australia and even though they claim that they verified the facts and took their own footage in Java and Sumatra, many questions remain as to the validity of the initial vision of Indonesian slaughtermen whipping and beating cattle and whether they were paid to perform these acts for the camera."
"However what is most concerning is the fact that the tax payer funded ABC allowed such a program to air, especially one which continues to be blatantly advertised by Animals Australia, the RSPCA and GetUp! as helping to end the livestock export industry."
"This is evident by the Walkley judges describing the program as an example of 'how good investigative journalism can change an entrenched, unacknowledged evil in society'," he said.
"Australian livestock producers and their families are certainly not involved in evil practices; they simply produce food in the most efficient and humane way possible."
"However for the ABC to allow one of its producers to promote such a belief whilst being funded by the tax dollars from the very group they wish to destroy is hypocritical at best."
"It is time for the ABC to follow the lead of their rural and regional media programs and realise that not all of their viewers reside in urban locations and are isolated from the reality of where their food comes from and how it is produced."
News
2023-04-11

Important Industry Survey on Live Sheep Exports from WA Producers
read more >>

2022-07-17

PGA Podcast on Biosecurity threat posed by Foot & Mouth Disease
read more >>

2020-06-12

Tier 3 Railways Need to be Economically Viable
read more >>
CONTACT INFORMATION
POSTAL ADDRESS

PO Box 889
West Perth
Western Australia 6872

PHONE

(08) 9212 6900