Press Release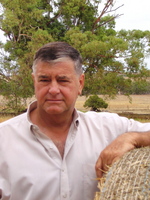 FEARS OF FOREIGN INVESTMENT IN FARMLAND UNFOUNDED SAYS PGA PRESIDENT
2012-07-23
Pastoralists and Graziers Association President Rob Gillam believes the current uproar over foreign investors purchasing Australian agricultural land is unfounded and that agriculture will only benefit, as it always has, from increased overseas investment.
Addressing the UWA Institute of Agriculture 2012 Industry Forum on July 19th Mr Gillam said "foreign investment will deliver important benefits to Australian agriculture, such as improved
market access, reduced price volatility, a generally lower cost of capital and technology transfers."
The question that we should be asking is not who should be allowed to invest in the agricultural sector but how we can work with foreign investors and participants to secure our long-term national security and prosperity?"
"Much of the current community and political debate has centered around criticism of foreign companies "buying up the farm" and threats to Australia's food security."
"Concerns about food security present tremendous opportunities to attract foreign capital, maintain access to markets and improve productivity. To turn away investors would not only be detrimental for their food security needs and national development, but also to our own interests."
"Australian agriculture, in conjunction with our government, must convince our major trading partners that their food security is best managed by investing in a stable, profitable and productive agricultural sector," he said.
There is no reason to believe foreign investment is somehow less beneficial if it occurs in agriculture. In fact if we look at the past, if it wasn't for foreigners, there would be no agriculture in Australia."
News
2023-04-11

Important Industry Survey on Live Sheep Exports from WA Producers
read more >>

2022-07-17

PGA Podcast on Biosecurity threat posed by Foot & Mouth Disease
read more >>

2020-06-12

Tier 3 Railways Need to be Economically Viable
read more >>
CONTACT INFORMATION
POSTAL ADDRESS

PO Box 889
West Perth
Western Australia 6872

PHONE

(08) 9212 6900