Press Release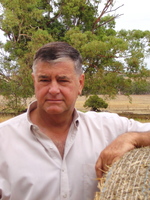 FARMER FURY OVER MCGOWAN'S CRITICISM OF MOU
2013-10-11
Western Australian farmers and pastoralists are fuming over State Opposition Leader Mark McGowan's comments yesterday on 6PR where he criticised the recent signing by WA Premier Colin Barnett of a Memorandum of Understanding with the Zhejiang Province on live cattle exports, saying the deal should be held off for a year or two in favour of chilled meat exports.
"What is clear from the Opposition Leader's comments is that his support for the live export industry is identical to that of former Prime Minister Julia Gillard and he is prepared to sacrifice the livelihoods of thousands of livestock producers with vague promises of creating more jobs in the meat processing industry in order to satisfy green factions within his party," PGA President Rob Gillam said.
"The live export industry employs thousands of individuals and is the only source of income for the Northern Cattle industry."
"If you begin closing off markets instead of developing them, you are placing the future of farming families at risk and destroying our regional communities."
"Countries like Indonesia are already importing both boxed beef and live cattle in order to serve different markets and we livestock producers are simply providing what our customers want."
"It is not up to ill informed politicians like Mark McGowan to tell farmers what they should grow and who they should sell to,' Mr Gillam said.
"Instead Mr McGowan and his Labor colleagues should be taking a leaf out of the Premier's play book and focus on strengthening our trade relationships with Asia and assist the livestock industry in securing new and emerging markets."
News
2023-04-11

Important Industry Survey on Live Sheep Exports from WA Producers
read more >>

2022-07-17

PGA Podcast on Biosecurity threat posed by Foot & Mouth Disease
read more >>

2020-06-12

Tier 3 Railways Need to be Economically Viable
read more >>
CONTACT INFORMATION
STREET ADDRESS

Ground Floor, 28-42 Ventnor Ave
West Perth
Western Australia 6005

POSTAL ADDRESS

PO Box 889
West Perth
Western Australia 6872

PHONE

(08) 9212 6900

FAX

(08) 9485 0299