Press Release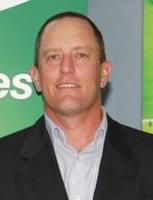 BUNGE OPENING MARKS NEW ERA FOR WA GRAINS INDUSTRY
2014-09-19
"Today's official opening of the Bunge Export Grain Terminal in Bunbury marks the start of a new era in grain exports in Western Australia," PGA Western Grain Growers Chairman John Snooke said today.
"The completion of Bunge's state of the art facility will allow farmers to choose, for the first time in over 80 years, a new pathway to port for their export grain," he said.
"The new facility is set to make Bunbury into a major centre for grain exports and provides the opportunity for farmers and transport operators to combine their logistical knowledge to coordinate grain movements to port in the least cost pathway."
"This alternative pathway, which combines on farm storage with a high input port for specified shipments of grain, will not only give farmers the opportunity to improve their farm gate returns with competitive freight services, but will also help to avoid future backlogs and congestion due to tonnage increases throughout the Wheatbelt especially in the Kwinana Zone."
"Bunge's commitment to the Western Australian grain industry has been well received by industry leaders and State and Federal governments, including WA Transport Minister Dean Nalder and State Agriculture Minister Ken Baston," Mr Snooke said.
"The PGA congratulates Bunge on the successful completion of this project and officially welcomes them to the Western Australian grain industry."
News
2023-04-11

Important Industry Survey on Live Sheep Exports from WA Producers
read more >>

2022-07-17

PGA Podcast on Biosecurity threat posed by Foot & Mouth Disease
read more >>

2020-06-12

Tier 3 Railways Need to be Economically Viable
read more >>
CONTACT INFORMATION
POSTAL ADDRESS

PO Box 889
West Perth
Western Australia 6872

PHONE

(08) 9212 6900