Press Release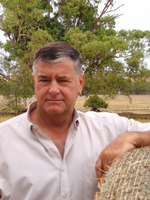 ANIMAL LIBERATIONISTS GET IT WRONG - AGAIN!
2011-12-16
Claims by animal liberationist groups that the recent decision by the Indonesian Government to reduce the quota on Australian cattle imports shows that the live export industry is a high risk industry and in danger of collapsing has been dismissed by the Pastoralists and Graziers Association (PGA).
"This is yet another example of the continual spin of miss-truths about the live export industry by animal rights activists who are determined to destroy this vital and important trade," PGA President Rob Gillam said.
Comments by Animals Australia that the quota reduction shows that the live export industry 'is a high risk industry not only for animals but for those rural communities that have become economically reliant upon it' show how ignorant these city based activist groups are about farming and rural Australia."
"Australia's rural communities are based on high risk industries and the live export trade is no more volatile than any other agricultural activity – just ask the thousands of West Australian grain producers who saw millions of dollars worth of crops wiped out by rain in a single day this week."
"All producers, from farmers to pastoralists are running commercial businesses in a very high risk, competitive industry," Mr Gillam said.
"They continually deal with numerous external factors like the weather, exchange rates, tariffs, high input costs, insurance, feral pests and disease – but the most damaging factor is arbitrary Government policy decisions."
In June this year the Gillard Government folded under pressure from animal activists and suspended live cattle exports to Indonesia without consulting with the industry, the producers and the Indonesian Government."
"This arbitrary policy decision forced the Indonesian Government to source cattle from other markets, which has led to their decision to reduce the quota numbers."
"The Gillard Government needs to step in and re-establish our trade relationship with Indonesia before more restrictions are placed on other agricultural imports."
News
2023-04-11

Important Industry Survey on Live Sheep Exports from WA Producers
read more >>

2022-07-17

PGA Podcast on Biosecurity threat posed by Foot & Mouth Disease
read more >>

2020-06-12

Tier 3 Railways Need to be Economically Viable
read more >>
CONTACT INFORMATION
POSTAL ADDRESS

PO Box 889
West Perth
Western Australia 6872

PHONE

(08) 9212 6900