Press Release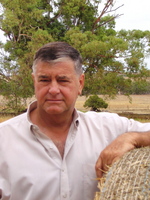 ALP SUPPORT FOR LIVE EXPORTS WELCOMED BY PGA
2011-12-05
The defeat of Fremantle Labor MP Melissa Parkes' motion to phase out live exports over four years in favour of chilled and frozen exports at the ALP National Conference is a clear indication that the voice of Australian livestock producers is starting to be heard above the continual bleating of Animal Liberationists the Pastoralists and Graziers Association (PGA) said today.
"This defeat is a clear validation of the importance of live exports to Australian livestock producers and a victory for common sense," PGA President Rob Gillam said.
"This is a billion dollar industry which cannot be simply phased out and redirected towards chilled and frozen exports."
"Producers know this, exporters know this, processors know this and regional communities know this yet inner city MPs like Melissa Parkes continue to tell the Australian public that phasing the industry out will 'foster Australian jobs and offer a better economic return, with processed meat worth 20% more than prices for live beasts'."
"A ban on live exports would decimate employment throughout regional Western Australia," Mr Gillam said.
"Thousands of regional workers in Western Australia depend on this industry and for most northern cattle producers, including Aboriginal workers, it is their only source of income."
"It is beyond belief that any one could believe that the only way to support the meat processing industry is by destroying a rival market, rather than through developing new markets and offering competitive prices."
"The fact that the motion was defeated shows that commonsense will always prevail over the rhetoric from activists like the World Society for the Protection of Animals (WSPA), which spoke at the conference in support of Ms. Parkes' motion, and is against intensive agriculture and the transportation of animals."
"These groups are not about animal welfare, they are about animal liberation and an end to all livestock farming."
News
2023-04-11

Important Industry Survey on Live Sheep Exports from WA Producers
read more >>

2022-07-17

PGA Podcast on Biosecurity threat posed by Foot & Mouth Disease
read more >>

2020-06-12

Tier 3 Railways Need to be Economically Viable
read more >>
CONTACT INFORMATION
POSTAL ADDRESS

PO Box 889
West Perth
Western Australia 6872

PHONE

(08) 9212 6900